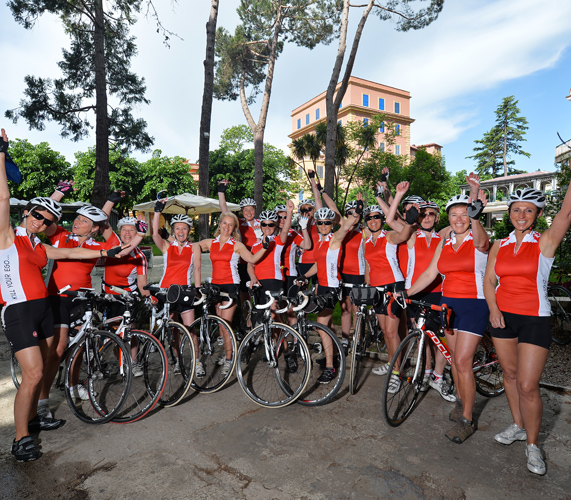 Our cyclists say

Bike Experience from our customers
We visited the Silva bike hotel in Fiuggi in the beginning of may. We had a very nice stay with a lot of nice bike tours with excellent guiding. The bikes we rented were really good and the hospitality was excellent. After a full day on the bike it was fantastic to enjoy some relaxing time in the spa and then finish the evening with a splendid buffet dinner. We would really recommend the Silva bike hotel to other bikers.
Olle, Sweden
---
Fiuggi for us is a mixture of great old Italy,with fantastic views and rides and as always the friendly people. It is very close to Rome,with easy access and everything in the Hotel is perfect for cycling and apres-cycling.
Alan, Brazil
---
"I spent 4 days in Silva Bike Hotel Splendid, as part of a large group, focused on road biking with local guides. I stayed in a spacious, nicely decorated room with a balcony, facing the mountains. Very nicely and newly refurbished bathroom. The bikes provided were in top condition and already adjusted to my measurements upon arrival. Challenging bike routes through such a beautiful and picturesque landscape. Great buffet breakfast and dinner in the large dining room. The spa is beautiful and all staff in the hotel friendly and attentive. I do look forward to returning again soon."
Lotta, Sweden
---
We are a group of five cyclists traveling together for years. Every summer we go to another place to spend a week of cycling. This summer we came to Silva hotel in Fiuggi . we met with Adriano a great young. Guy that was our guide for the week, he fixed five beautiful Bianchi bikes for us and took us every day to another lovely route in the area. We had a great time and we enjoyed the hospitality of the Silva Hotel, the landscape of Lazio and the rides with Adriano. We highly recommend it to every cycling lover
Avi, Israel
---
My husband and I spent a week in Fiuggi at Silva Bike Hotel earlier this summer and it was a fantastic cycling experience. Although it's far into the countryside of central Italy, Fiuggi is not difficult to get to from Rome. Lazio is a perfect landscape for cycling – beautiful, quiet countryside and hills and mountains everywhere. While the hills can be challenging enough, the constant views will take your mind off the hard work – a perfect blend of suffering and beauty! The roads are extremely quiet and you are likely to see more horses and cows than you will cars! There are also quiet cycling paths high up, along the side of the mountains where you feel as though you are riding in the sky. Our guide, Adriano, was a perfect host. He was very organized and helpful and made us feel very welcomed. His bike room was impeccably maintained with everything you need, and he offers new Bianchi Infinito bikes for rent (as well as mountain bikes and city bikes), and made sure that we were well equipped and comfortable on our bikes before we rode. He was great at explaining points of interest, as well as taking us to authentic, local places, like a beautiful open air produce market and a fantastic restaurant one day for lunch. He offers an interesting ride into Rome on rustic roads leading to The Appian Way and the ancient Colosseum – surely one of the most unique bike rides you will every take! One day we decided to ride, using only a GPS that he had set up with local routes, and it was also perfect. The quiet roads in the area ensure that you can ride comfortably and without the added stress of traffic. The hotel was really nice and we felt very at home there. The restaurant has a large variety of fabulous food cooked with local, fresh ingredients and offers many typical dishes of the region. The wait staff was extremely professional, service oriented, and very friendly. And, they packed great lunches for us to take on our rides. As an added bonus, the hotel also has a full service spa, where you can relax after the day's ride, along with a beautiful outdoor swimming pool. I was pleasantly surprised at how much I enjoyed riding in the Lazio region, and highly recommend cyclists who have never been there to give it a try. It is not as well known to touring cyclists as other areas of Italy, but it should be! We are looking forward to going back!
Andrea, Usa
---
I went for a short break cycling holiday, so this is a review from the point of view of a cyclist.  In summary, it was excellent, with some brilliant cycling. Firstly the bikes, the hotel has purchased twelve or so carbon fibre Bianchi road bikes with ultegra group sets and fulcrum racing five wheels, nearly brand new and well maintained.  Excellent bikes, very responsive on the climbs. Day one we were taken on a ride by the owner of the hotel son and his wife (Gianrocco and Elena).  They invited us to lunch at the end of the ride and we sampled some of the local wines.  That was unexpected and really enjoyable. Day two and three our guide was Adriano, who was very patient as I slowly climbed up breakfast hill (a climb of around 1000 feet).  The town and hotel are about 2000 feet and the highest we got to was just over 3000 feet and the lowest was about 750 feet.  Very quiet roads, we even met a wild boar on one of the roads, mild gradients, long climbs, drivers courteous towards cyclists.  Our best ride was to the monastery on the rock, near Subiaco.  Over my three rides of about forty miles each we climbed nearly 15,000 feet (my GPS) or just over 12,000 feet (barometric watch).  There is a local pocket map and route guide available at the hotel reception "Pedalling around Fiuggi". A packed lunch was delivered to the workshop for when we returned and we sat in the hotel gardens and had a mini picnic after the ride. My room had all the important stuff, air conditioning, big walk in shower and a comfortable bed.  The wooden furniture was a little dated but that wasn't an issue for me.  Staff were really nice and we got a very welcome complimentary bottle of the local wine with dinner. There is also an outdoor pool and a four floor spa with indoor pool, sauna etc.  That was very popular with the other guests of the hotel and seemed to be one of the main selling points of the hotel. Fiuggi is a spa town with a large park where the pensioners go to drink the healing spa waters.  There is a busy main square with some bars and some shops.  Buzzing on a Saturday night in early September but quite a small place. There would only a few other cyclists in the hotel during our visit so I would recommend as best for a cycling club group holiday.
Mark, England