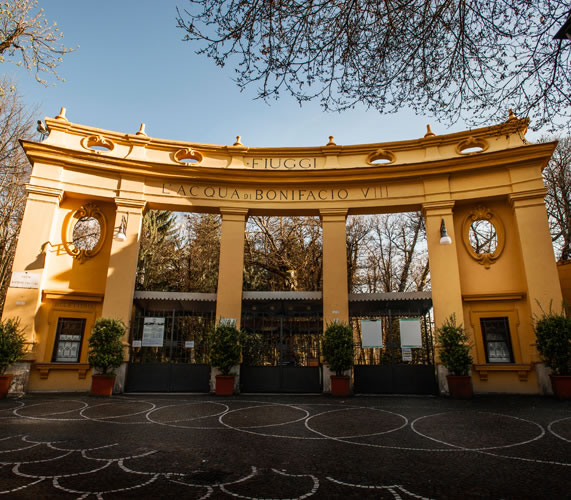 Fiuggi and Spa
A little trip through history, the spa, the land and the water of Fiuggi

Fiuggi, an ancient and picturesque town in Lazio, still known as Anticoli di Campagna, is situated on a large hill of Ernici, from which you'll enjoy appealing panoramas and wonderful views bordered to the west by Mount Scalambra, to the north by the mountain chain of the Simbruini, to the east by the Ernici mountains, and to the south, the Sacco Valley. The old city center is more populated at the top of the hill (Fiuggi City) at 747 mt. above sea level, while below, at 621 meters above sea level, along the lower slopes, lies the Spa Centre (Fiuggi), connected by excellent paved roads, and by an electric tramway.
So wrote the Italian Touring Club, in a guide on Hydrothermal resorts of Italy, in the early twentieth century. And today, after a century, Fiuggi continues to maintain the characteristics of a spa town: "taking the cure", a wellness weekend at the spa, breathing pure air and enjoying beautiful and unspoiled landscapes.
WELLNESS PACKAGES and
SPECIAL OFFERS
---
Let yourself follow your wellness desires, enjoy the beneficial effects of the water of Fiuggi.